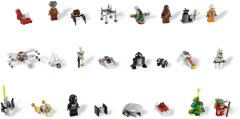 7958 Star Wars Advent Calendar is now listed online at ToysRUs.com. It's currently marked as "out of stock for shipping" but "available in stores". If it follows the pattern of recent newly released sets (Star Wars, Red Cargo Train), then it should be available for shipping soon. An interesting conflict to this is that brickset member BothSidesOfTheBrick called a local Northern CA Toys R Us store and was told that the set would not be available in stores and will only be sold online. As we well know, customer service is often misinformed, so if you happen to find it in a local store, let us know!
Thanks to BothSidesOfTheBrick for the heads up!
Commenting has ended on this article.