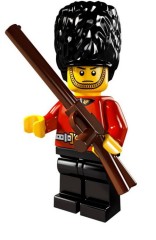 Bonzo312 has analysed a case of Series 5 minifigs and reports that the make-up is as follows:
3 Graduates
3 Gladiators
5 Royal Guards
3 Ice Fishermen
4 Cave Women
4 Lizard Men
5 Zookeepers
4 Lumberjacks

4 Small Clowns
4 Fitness Instructors
4 Detectives
3 Evil Dwarves
5 Boxers
3 Egyptian Queens
3 Gangsters
3 Snowboarder Guys
So there are at least three full sets in each box which wasn't the case with some series 4 boxes.
Now that the Ugly Duckling is not running his website any more, it's harder to track where these are available. They've been in the UK for a couple of weeks (in WHS at least) and in the Netherlands (where Bonzo312 is) and I suspect other parts of Europe, but I haven't heard reports of anyone in the USA finding them yet.
Commenting has ended on this article.