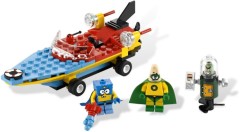 Welcome to the first in what will hopefully be a regular feature here at Brickset news: my personal 'pick of the week'. Each week (particularly on slow news weeks :-) ) I'll present a mini-review of a set that I've just built or have found at a bargain price on the Internet somewhere.
First up it's a set that meets both these criteria: one of the new SpongeBob sets, 3815, Heroic Heroes of the Deep. I have to confess to not being a big SBSP fan having never seen the cartoon. I bought this set and 3816, Glove World from Amazon this week mainly to keep my minifig collection complete. I wasn't expecting too much from it, but when I opened it, I was pleasantly surprised.
For starters, the minifigs are excellent. SpongeBob and Patrick are in colourful super hero costumes, and Plankton comes in some sort of diving machine (excuse my ignorance, as I said, I've never seen the cartoon :-) ). The main protagonists both feature cloth capes in rare colours, blue and green, and SpongeBob carries a red version of the collectable minifigure alien ray-gun which fires LEGO ice-cream.
The coolness doesn't stop there though; it's not obvious from the pictures (at least it wasn't to me) that the set features quite a few parts, including the ice-cream, in the new 'dark azure' blue colour used for the Alien Conquest minifigs. I hope this is the first of many apperances of this very nice colour.
Once built, the ship-on-wheels looks very colourful indeed and I'm sure very appealing to young fans of the cartoon. To make it even more tempting, it's currently 25% off at Amazon.co.uk and Amazon.com. Order your copies below:
Commenting has ended on this article.