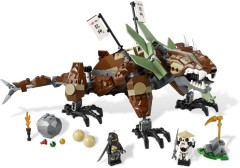 This week I've selected another set that I've just built and which is available at a significant discount, in the UK at least.
Ninjago Earth Dragon Defence is one of the new Ninjago sets that has just been released. I first saw it at the London Toy Fair in January and thought it looked cool then. So, yesterday, while at the Milton Keynes LEGO store (helping to build the 'ribbon' models for the new London Stratford shop opening soon) I thought I'd treat myself.
Ever since the Vikings dragons appeared in 2005, I've had a soft-spot for LEGO dragons so I was pleased to see that so many were to feature in the Ninjago theme. I bought the Ice Dragon, 2260, earlier in the year and this is the only other NinjaGo set I've bought so far, not being a huge fan of the theme otherwise, particularly the cheap-and-nasty spinners.
The Earth Dragon isn't what you'd call a traditional dragon because it doesn't have wings. It's more of a giant lizard or pre-historic monster but I have to say, once built, it really is a fearsome looking thing. It's built mainly from brown and dark tan pieces and measures 15" (38cm) head-to-tail. Its front legs are fully poseable but its back ones are fixed. The spike-wielding tail can be swished from side-to-side. A ring of sand green aircraft tail pieces make up an armoured shield behind which Cole DX sits. Wyplash, the undead enemy in this set doesn't stand a chance against this thing...
The minifigs are so-so (you probably have them already if you have other Ninjago sets) but the creature is excellent and a sight to behold once built and I highly recommend it.
Price-wise in the UK, it's £30.99 which if I'm honest, is a little on the high side. Luckily though, you can currently get it at Amazon.co.uk for 31% off making it a much more reasonable £21.36.
In the USA it's $35, and while I haven't managed to find a saving online for you, that's a far more realistic price anyway. Amazon.com doesn't seem to stock it (but 3rd party sellers do) so you are probably better getting it directly from shop.LEGO.com or your local toy store.
By the way, last week's Pick of the Week: SpongeBob Herioc Heroes of the Deep is now even cheaper in the UK: £9.19 which is 34% off.
Update: looks like this article may have caused a bit of a rush on the set in the UK, the price is now back up to RRP :-(
Commenting has ended on this article.