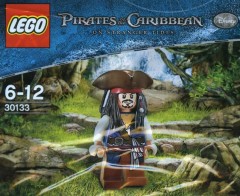 Following on from the heated debate we had earlier in the week about this set, I have some good news and bad.
The bad news is that despite the image on the bag showing a white Jack Sparrow face, it is in fact the plain, normal, face that's appeared in other sets.

The good news is that PotC minifig collectors won't now have to tear their hair out trying to get hold of it!
Thanks to keithkram for sending me one to photograph. I've now scanned the bag which clearly shows the white face. What a disappointment!
Commenting has ended on this article.