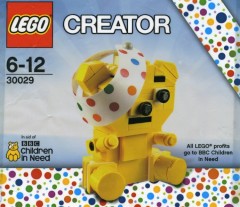 This morning's trawl for new instructions at LEGO Customer Services revealed this cute teddy bear Creator set which, if I am not mistaken, is Pudsey from the BBC Children in Need appeal, which this year is on November 18th.
If so, then I think it's safe to assume it'll be available in the UK sometime soon. However, a quick Google hasn't revealed anything to suggest that LEGO is involved in the appeal in any way. Hopefully more news will be forthcoming soon...
Incidentally, the trawl for instructions is now automated and runs every night, so keep an eye out on the new instructions list to find out what's been added recently.
Commenting has ended on this article.