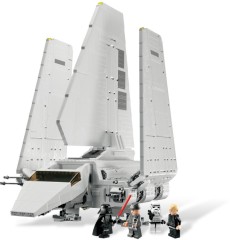 There's no doubting that the Imperial Shuttle is a nice model, but at £245, it's a bit on the expensive side, particularly when compared with the price in the USA.
Well it seems LEGO has recognised this too because it's now reduced the price to £183.99, which is a reduction of 25%. Still expensive, but a bit more palatable. It's not appearing as a sale price on the site so it does seem as if it's a 'readjustment'.
I might even be tempted to buy it myself at that price. If you are too, here's a direct link to it at shop.LEGO.com.
Thanks to OllieL for the news, who also states that 'there is free shipping September 1st-18th and orders over £50 get an extra 50 VIP points so if you buy the Imperial Shuttle you get £10 worth of VIP points off your next purchase.'
The US price appears to have remained the same, at $259.
Update: Did the 'Brickset effect' strike again? Within hours of this article being published the price jumped back up to £245. I hope some of you were lucky enough to get your order in beforehand. I wasn't!
Commenting has ended on this article.