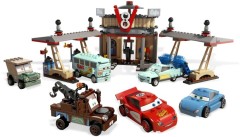 This week I've chosen to write about a set I never intended to buy. When I first saw the Cars sets, I decided to give them a miss, partly because they didn't have minifigs in them, but also because, well, I have to draw the line somewhere, I can't buy everything! However I had the opportunity to buy the set for 33% off when some friends bought three of them in the Argos 3-for-2 sale a few weeks ago, so I thought what the heck, why not...
The set's main appeal is definitely the cars themselves, of which there are six included. Lightning McQueen and Mater are among them and I'd tell you the names of the other four had I not just put the box away in the garage; their names aren't mentioned on the instructions anywhere. EDIT: I've since verified the rest are Flo, Fillmore, Sarge and Sally.
There are several great things about the cars from a LEGO perspective. First, many of the parts are printed so there's no fiddling about with stickers that you can never apply straight and which peel off in a couple of years anyway. Next, there are some really nice new pieces in them, which give the cars a smooth, curved, streamlined look. Finally, two of them are a 'light aqua' colour which until now has been quite rare.
The V8 garage itself is there to provide some play value and it does a pretty good job at it, featuring as it does a car wash, petrol (gas) pumps, and a 'car cafe' area.
If you have no other Cars sets this is a good one to start with because of the number of vehicles in it, including the movie's main protagonists.
Now having become besotted with the cars themselves, I'm wondering if I should just bite the bullet and buy the rest of the theme...
The set is currently 20% off at Amazon.co.uk and 14% off at Amazon.com:
Commenting has ended on this article.