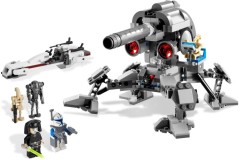 Valid Sunday 9/11/11 thru Saturday 9/17/11 both in-store and online, all LEGO Star Wars sets will be on sale at Toys R Us. Most sets are only 10% off although the Clone Trooper Battlepack (7913), Mandalorian Battlepack (7914), Slave 1 (8097), exclusive AT-AT (8129), and exclusive Battle for Geonosis (7869) will be 30% off the normal TRU price. Unless you've been putting off buying the AT-AT or Battle for Geonosis, I would probably recommend you wait for a much better sale or buy your sets tonight before the ongoing BOGO 50% off + free Harry Potter polybag (30110) promotions end.
There is one interesting addition though, where you receive a free R2-D2 USB flash drive with any Star Wars purchase of $30 or more. The flash drive, oddly enough, might actually get me to pick up the Battle for Geonosis which I had previously been putting off.
UPDATE: The BOGO50% is apparently still running but excludes Star Wars sets so stacking isn't an option.
Commenting has ended on this article.