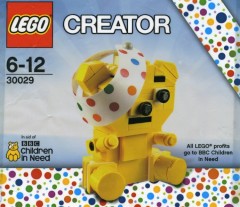 When I published the original article about this on 1st September, I contacted LEGO to find out more. I was told that the instructions, and thus the news that LEGO were supporting BBC CiN, was not supposed to be public until an official announcement at the beginning of October.
Shortly afterwards however, the brand store calender for October was published on the LEGO website which confirmed the news, but as I was asked not to provide more information, I didn't.
Now the BBC has published a brochure for Children in Need that shows LEGO Pudsey, there really isn't any point keeping quiet any more!
You can read more at Bricks and Books and see a scan of the brochure page here. It seems he's going to be available 'exclusively' in Asda for £4. Exclusive that is, apart from in LEGO brand stores and shop.LEGO.com :-)
Commenting has ended on this article.