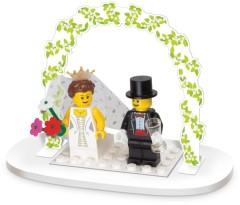 This neat little set was found by Mariann over at Model Building Secrets at LEGOLAND (California, I presume) recently. Apparently it's to be used for 'table decoration' only but I'm sure it would look very cool on top of a wedding cake.
While in the Milton Keynes shop at the weekend I noticed that they sell bagged-up bride and groom sets, presumably in response to in-store requests for them, so I'm sure this neatly packaged official set is going to be very popular. It would make sense for it to be available 'for ever more' because demand for it will surely be continuous.
Commenting has ended on this article.