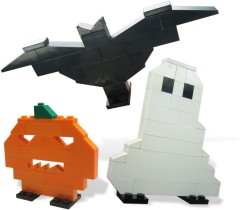 LEGO has a long history of making Halloween-themed sets. The first, a pumpkin, was released in 2000 (3731) and caused a lot of excitement because it was one of the first sets to feature orange bricks and slopes.
This year, two sets are being released: 40020 (pictured left) featuring a bat, ghost and a pumpkin, and 40021, which contains two spiders. The models in 40020 are an improvement on last year's separate bat, ghost and pumpkin sets (40012, 40013, 40014) which contained only bricks. This year we have slopes, cheese wedges and other more useful parts.
Forum member LostInTranslation found the two sets at LEGOLAND Billund, so I'm sure they'll be hitting the shelves of the brand stores and shop.LEGO.com soon; after all it's only 5 weeks until the event itself.
Commenting has ended on this article.