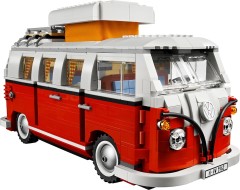 The new Volkswagen T1 Camper Van has just become available to order from the US & Canadian Shop Online stores, with immediate availability. Brickset member 'GreenHare' reports that the Newark, DE, USA, store has them on the shelf in-store already, so other US stores probably do too (ring ahead to check before making a special journey).
As for the rest of the world, the Shop Online store is reporting '27th Sept' for availability pretty much everywhere else. That's only next Tuesday, so not long to wait now.
Thanks to 'GreenHare' & 'datkidde' (on the brickset forum) for the news.
Commenting has ended on this article.