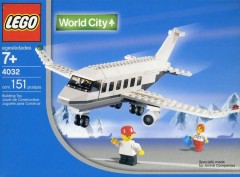 You'll notice from the 'new additions to the database' ribbon above, that I have just added the same set, #4032 Holiday Jet, quite a few times; I thought I'd make a little post here to explain why ...
This set was originally released back in 2003 as an airline promotional set - these are sets that are usually only available to buy on-board aircraft during a flight. LEGO has a long history of producing these types of sets; they are usually, if not exclusively, models of aircraft and sometimes feature sticker sets exclusive to the particular airline that they are being sold on.
This particular set was unusual in that it was available on a large range of different airlines, and was available in 13 (known) variants; the boxes are identical in all cases (featuring "Specially made for Airline Companies" text on the front), but a sealed clear plastic pouch on the back of each box held a different set of stickers depending on which airline it was bought from.
Previously, we only had a single generic entry for all the different versions of this set; I've broken that out into the 13 different variants known. The original entry (4032-1) has now become the 'LEGO Air' version, which is the most common version in circulation; if you are amongst the 169 people who have previously marked this set as 'got', you might want to check which version you have and adjust as appropriate.
You can check the full set of airlines in the database; the rarest version seems to be the 'ANA' (All Nippon Airways) version, although the JAL (Japan Airlines), Aeroflot and several others seem to be quite in demand by collectors too. The most unusual version is probably the 'Snowflake' version; Snowflake was a SAS-owned low-cost airline spin-off that folded in 2004.
Anyone know of any other variants of this set?
Commenting has ended on this article.