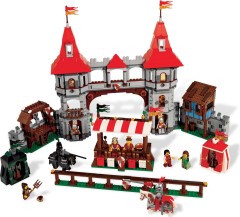 In keeping with the tradition of announcing an AFOL-worthy set at BrickCon and the Great Western LEGO Train Shows this weekend, LEGO has just taken the wraps off the set 10223 Kingdoms Joust. The announcement was accompanied by a full set of media photos posted to the LEGO Shop Facebook page: http://www.facebook.com/media/set/?set=a.266426973389859.69505.207089142656976
The set consists of 1575 pieces, which will set consumers back US $119.99 (CA $149.99, DE 119.99 €, UK 99.99 £, DK 1099.00 DKK, AU 199.99 AUD). The set will be available exclusively from LEGO in January 2012.
It is certainly the largest and most detailed treatment LEGO has done to date of the storied jousting scene. But in my opinion, where the set really shines is when it's combined with a second copy -- as it was designed to do -- to form a substantial grandstand and encompassing building scene. Just be aware that in the official images, you may be looking at this double configuration!
Here is the official press release:
"10223 Kingdoms Joust
Ages 12+. 1,575 pieces.
US $119.99, CA $149.99, DE 119.99 €, UK 99.99 £, DK 1099.00 DKK, AU 199.99 AUD
Watch the Knights battle it out at the Royal Joust!
It's the most exciting event on the LEGO Kingdoms calendar! Join the King and Queen at the Royal Joust as the knights on horseback battle it out for the hand of the beautiful Princess. This detailed set recreates all the majesty of a medieval pageant, from the large, 6-roomed castle with linked wall extensions, 2 knights' weapons tents, royal viewing box, jousting fence and of course 2 magnificent jousting horses. Combine 2 Kingdoms Joust sets for a scene that is truly fit for a King! • Includes 9 minifigures: king, queen, princess, lion knight, falcon knight, young squire, nobleman and 2 soldiers!
• Knight minifigures include armor decoration, helmet, jousting pole, shield and 2 extra weapons!
• Features a castle with 6 detailed rooms with lots of accessories and 2 knight's tents with weapon holders!
• Open back for easy access to linked wall extensions!
• Also features royal viewing box with flags and coat of arms!
• Includes 2 knight's horses with detailed decoration, weapon holder and armored headgear!
• Explore the castle rooms!
• Battle it out for the hand of the princess!
• Combine 2 Kingdoms Joust sets for a scene fit for King!
• Castle measures 20″ (51 cm) wide and 12″ (30 cm) tall!
Available for sale directly through LEGO® beginning
January 2012 via shop.LEGO.com, LEGO® Stores or via phone "
Commenting has ended on this article.