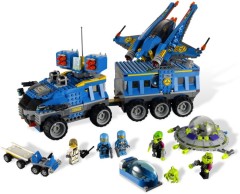 It's that time again at Toys R Us! Valid Sunday 10/2 thru Saturday 10/8, TRU is putting 14 LEGO construction sets along with 4 LEGO board games on sale for 30% Off the normal TRU price. The sets are as follows: Space Shuttle, Space Center, Powerboat Transporter, Fishing Boat, City of Atlantis, Deep Sea Raider, Earth Defense HQ, AC Mothership, Mill Village Raid, King's Carriage Ambush, Millennium Falcon, Podracers, Skull Truck, and Fire Temple.
Additionally, you receive the exclusive Week 1 Bricktober minifigure magnet (White Ninja) with a qualifying $20 purchase. Lastly, this Week's flyer has a coupon that gets you a $10 "Special" Giftcard if you spend $75 or more. This "Special" Giftcard activates 6 hours later and then expires on 10/29/11.
Note: It is probably worth noting that, unlike last year, the Minifigures will be glued on each of the 4 magnets this Bricktober.
Note 2: Keep an eye on Amazon as they will likely match most if not all of these prices as has been their way recently.
Note 3: It appears that all other sets are 10% Off the normal TRU price this week.
Note 4: There appears to be yet another Brickober promotion, this one running throughout the month. For Rewards R Us members, you'll earn $5 in "LEGO Dollars" with your total LEGO purchase of $100+ or $10 in "LEGO Dollars" with your total LEGO purchase of $150+. These ceritificates will be mailed by TRU and via USPS sometime between 8 and 12 weeks after purchase. It's unclear to me, however, if these are in anyway different than normal "Rewards Bucks" (which are just as slow to arrive) or if the promotion is cumulative or per purchase. Additionally, the limit is one $5 or $10 certificate per member.
Commenting has ended on this article.