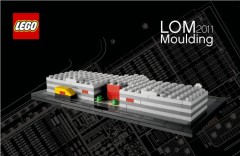 This morning's trawl of the instructions at LEGO.com revealed this set, 4000002 'LOM 2011 Moulding'. Given it's in the same number range as the 4000001 Moulding Machines Inside Tour exclusive, this is also presumably some sort of 'insider' exclusive.
The instructions, which you can download from the set details page, reveal that LOM = LEGO Operations Mexico and that this is a model of the second moulding plant in Mexico which has just been completed.
So, I'm guessing that this is a model presented to those involved in the project, and therefore will be pretty hard for collectors to get hold of.
(Thanks to brickbuilder Bert who emailed me about it)
Commenting has ended on this article.