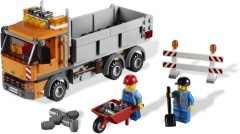 The German site is back up, with all 2012 images still there, so I'm slowly adding them here:
Cars | Dino | City | Star Wars| Technic | Friends | Games | Racers
I have to say, some of the normal City sets (as opposed to Fire and Police) look excellent, particularly this tipper truck. I believe AFOL Pierre Normandin works on the City sets, which would help explain why they are so good.
UPDATE: All pictures and listings for the 2012 sets have now been removed from the German site.
Commenting has ended on this article.