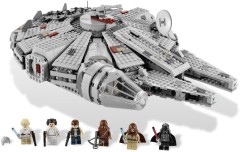 From now until Sunday, it's 3-for-2 on all toys at Argos, in-store only. You can reserve online and pick up at store of course, and if you're hoping to buy three of the same set to maximise savings, it will be best to do so before the weekend for your best chance to find the stock.
Mysteriously, the Black Pearl has disappeared from their system. I can think of three reasons why this might be:
They don't want it available whilst this offer is on;
They weren't supposed to be selling it yet. The latest shop.LEGO.com catalogue states that it'll be available from the 1st November, so someone in LEGO probably read of its availability here and asked them to stop selling it;
It's sailed into the Bermuda Triangle never to be seen again...
Actually I think the second one is most likely. You could try your luck and ask for it I guess. The stock number is 901/3823.
Commenting has ended on this article.