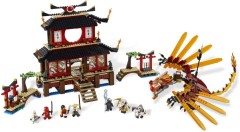 The UK's Toy Retailers' Association publishes a list of what it thinks will be the top toys of the season and, as usual, there's a LEGO set on it. This year it's the Ninjago temple. If you're thinking of buying it, you'd better do so now before it sells out. As luck would have it, it's currently reduced at the European Amazon sites:
In the US, the best Amazon.com can do is 3% off, I'm afraid.
Commenting has ended on this article.