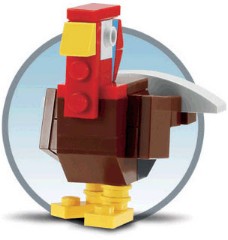 This month there is a split between the European and North American Monthly Mini Model Build (MMMB) models - here in Europe we're getting a rather disappointing Acorn model, while 'across the pond' you get yet another Turkey model, for the 3rd year in a row. It looks like a nice model though, and the PDF instructions are available already ...
The in-store build sessions run on the 1st Tuesday of the month in North America (i.e. yesterday) and the 1st Thursday of the month in Europe (i.e. tomorrow).
The December model has also been announced - it's a little odd looking, but is meant to be the toy soldier character from The Nutcracker ballet.
In other news, the November and December in-store calendars for the European stores are now available on-line:
It doesn't look like the US or Canadian store pages have been updated yet; I'm sure it will happen in a day or two.
Commenting has ended on this article.