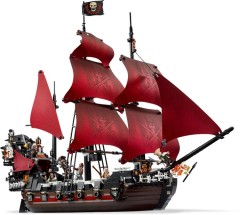 Valid Friday 11/4 thru Saturday 11/5, the Queen Anne's Revenge (4195), Police Station (7498) and Garmadon's Dark Fortress (2505) are 25% Off the normal TRU price. Even better, Toys R Us is running a "Doorbusters" additional discount between 3pm Friday and 1pm Saturday. During this time period, you can save an additional 20% on these 3 sets if purchased with the following coupon. These stacked discounts will result in savings of 30%, 34%, and 44% Off MSRP respectively for the QAR, Police Station and Fortress.
Additionally for Friday and Saturday, Toys R Us will be selling the City Fire Truck (7239), PotC Fountain of Youth (4192), Hero Factory Rocka XL (2282), and Duplo Pet Shop (5656) for $19.99 each. The savings off of MSRP for these sets would be 13%, 0%, 20% and 20% Off MSRP respectively. Please note that the "Doorbusters" coupon will not apply to these sets.
Update: It turns out that the coupon is also valid online by entering promotional code 948437 at checkout. Thanks Sharky!
Commenting has ended on this article.