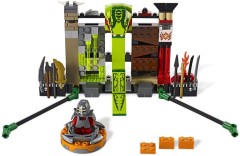 TheBrickBlogger has revealed more images of next year's Ninjago sets, so we now have a complete set. There appears to be two types: spinners, which are like those released this year, and booster packs, which are packaged similarly to collectable minifigures and seem to consist of a minifig and a selection of weapons. There's also a new starter pack and a training set, pictured.
Edit: I'm very happy to be corrected and tell you that, unlike this year's spinners, the 2012 ones won't be made in China, and will feature normal high-quality parts and minifigs. (Thanks Nabii)
Commenting has ended on this article.