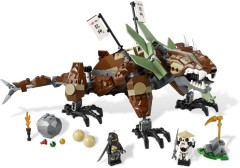 Almost certainly prompted by the Toys R Us 3-for-2 offer on LEGO this weekend, Amazon has reduced the price of loads of LEGO sets by 33%, as you can see from the alert below (if you're in the UK), including my previous Set of the Week, the Ninjago Earth Dragon. I suspect more may be picked up when the data is gathered again at midday, so keep an eye out here and on the Bargain Watch page.
This seems to be a growing trend, doesn't it: Amazon reducing their prices in response to a competitor's promotion. We saw it in France a couple of weeks ago. It's good for us as consumers now, I guess, but one day all the competitors will be out of business and we'll only have Amazon. Then it might not be so good...
Commenting has ended on this article.