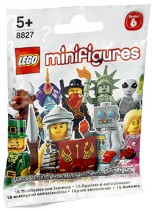 Here we go again... Member Ghost Target reports that "LEGO Minifigures Series 6 are shipping to Walmarts in the US. So far the Saratoga Springs and Queensbury, NY Walmarts have received in 16 cases. The Walmart stock number is 708218".
Update! This is a false alarm, looks like we have a few more weeks to wait yet!
Commenting has ended on this article.