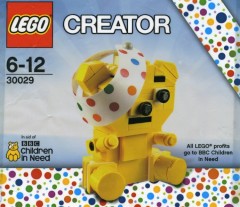 It's been a while since I wrote a Pick of the week, so this one is long overdue. Unfortunately my pick this week is one that very few people here can actually go into a shop and buy because it's only available in the UK. However, given that this week is Children In Need week, I feel compelled to extol the set's virtues and encourage you to buy one or more if you can, or, if not, hook up with someone in the UK and get them to send you some. (The Brickset forum is an ideal place to do that!)
This 95-piece set costs £4, of which £1 goes to the CiN charity, and builds a pretty good represenation of the charity's mascot, Pudsey. For such a small set it packs in some interesting building techniques using a lot of pieces, including plenty of SNOT, the likes of which you don't normally see in similar sized sets. Although you may have most of the parts in your collection, you won't have his unique spotty bandage, which finishes off the model perfectly.
Still not convinced? DrDave has reviewed the set this week as well over at his GimmeLEGO blog where you can see more pictures, including sans bandage.
Find out more about Children In Need, order the set from shop.LEGO.com, or go and buy one from Asda. Actually, this is surely going to be a collectors' item in years to come and handy to have a stock of for trading internationally, so don't just buy one, grab a handful and help underpriveleged children while you do so.
Commenting has ended on this article.