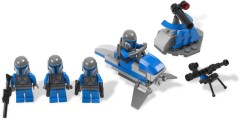 Since Christmas is nearing, a few sales to note:
London Drugs has a 20% off sale on all LEGO running until January 31st 2012. Toys R Us does have comparable sales on with their popular buy one get one 1/2 off sales on selected themes (25% off). Until Nov. 17, those themes will be Alien Conquest and Pharaoh's Quest.
I am sure Toys R US will have similar sales in the weeks to follow but with different themes. The disadvantage of these sales compared to London Drugs is the fact that you must buy two identically priced sets to get the full 25% off value, and they both must fall in the selected theme.
London Drugs vs. Toys R Us: the choice is yours...
Commenting has ended on this article.