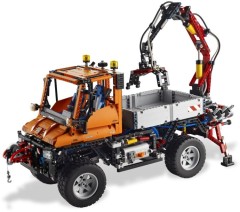 LEGO seems to be getting a lot of coverage of in the mainstream media these days. Two articles at newspaper websites were brought to my attention this week:
MrFootball found a piece in the Wall Street Journal titled For Some Grown-Ups, Playing With Legos (SIC) Is a Serious Business which is an article about LEGO Certified Professionals making money from the hobby.
lbh1876 pointed me at an excellent write-up and video about building the ultimate LEGO car (the Mercedes Unimog) at The Telegraph's website today, which you can watch below:
(I've embedded the script but it's not showing for me, if it isn't for you either, click here to view it).
It makes quite interesting viewing seeing how a non-AFOL tackles the build. Tipping all the parts on the table like that for starters is a sure-fire way of increasing the build-time considerably. I can't remember how long it took me to build but it certainly wasn't 9-and-a-half hours!
I suspect if you've been wondering whether to buy it or not, after watching the video you may well be going out to get it tomorrow!
Commenting has ended on this article.