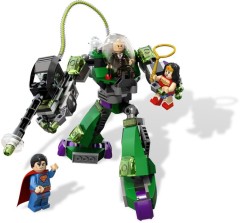 Brickipedia and Brick Heroes (a French language site) have revealed hi-res photos of five of the DC Super Heroes sets today, and I have to say, they look better than I had anticpated from the grainy watermarked pictures we had seen previously.
I particularly like 6862 Superman vs. Lex Luthor, what with its cool mecha and Wonder Woman minifig.
Like other licensed sets, I suspect they'll command a premium price but it looks as if they'll be worth forking out for!
Commenting has ended on this article.