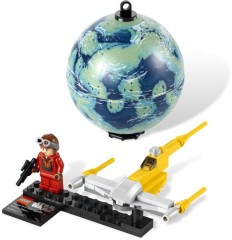 If the Super Heroes images haven't got you salivating enough, how about these, official images from Amazon.fr of three Star Wars Planets sets!
As you'll be able to see clearly in the alternative images there, they consist of a micro-scale model, a minifig and a 'planet', which appears to be around 10 studs in diamater and presumably splits in half to enable the parts to be stored in it.
There's no word on price or availability, but I imagine they'll be available early in the New Year in Europe and possibly before in the USA. It looks like we could be in for a lot of these in years to come judging by the 'Series 1' on the boxes.
Check them out for yourself:
(via Toys N Bricks and Hoth Bricks)
Commenting has ended on this article.