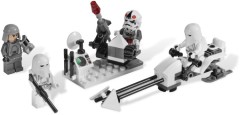 Toys R Us, Canada, is having a 1/2 price sale starting Friday November 25 through Thursday December 1st on the Snow Trooper Battle Pack (8083) and the Rebel Trooper Battle Pack (8084). At $7.47 each, it's an easy buy for anyone building a hoth MOC.
My flyer says the sale can be store specific, so please check your own local flyer.
http://www.toysrus.ca/shop/index.jsp?categoryId=12027082&locale=en_CA&camp=CME:Flyer_11.16.11
Commenting has ended on this article.