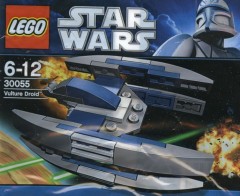 In case you haven't already read about this in the forum, there will be a free polybag with The Sun next Saturday. The main advert doesn't give any clues as to what it is although Eurobricks is citing another one, on page 7 of today's paper, that shows 30055 Vulture droid. It looks to be just a single giveaway this time, part of a larger Christmas promotion. (thanks Broxi)
Update: there'll be a free set on Saturday 3rd December (Vulture droid) and another on the 10th. More info in the forum.
Commenting has ended on this article.