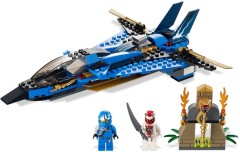 The Thanksgiving weekend has come and gone, 2012 sets are already on the shelves in the USA, there are unlikely to be any new product announcements until the New Year, so we could be in for a few slow news weeks.
The only thing I can find of interest, if you're in North America, is that the 2012 Ninjago sets are now available at shop.LEGO.com. These look to be very interesting indeed, but unfortunately we'll have to wait a few more weeks for them to appear here in Europe and the rest of the world...
Commenting has ended on this article.