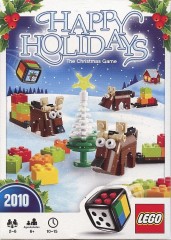 I have a gift for you that was given to me by member JSutton a few weeks ago that I'd forgotten about until now...
Remember the Happy Holidays game that was given to LEGO employees last Christmas, and consequently hard to get hold of (unless you are an employee of course)? As far as I know, instructions for building and playing the game have not been been made available anywhere, but now, JSutton has reverse-engineered it and produced pictorial and written instructions, which you can now download exclusively from Brickset.
You probably have most parts in your collection so get building and have some seasonal fun with friends and family!
(Thanks James!)
Commenting has ended on this article.