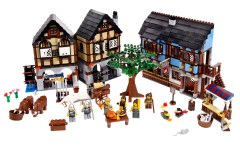 If you're near a LEGO brand store (Brighton, Milton Keynes or Bluewater) you should be able to grab some 2009 sets before Christmas. Bluemoose reports that in addition to the town square (priced at a very reasonable 68.50) "they have both new Indy sets (car chase & german plane), both new Star Wars 'army builder' sets, new Jedi starfighter & clone assault gun-boat thing, some of the new racer sets, the new City crane & City digger, the new mini F-14-like creator set, but no Miners or Farm yet."
No sign of them on LEGOshop.com yet though. Looks like we'll have to wait a bit longer to be able to order them from there...
Commenting has ended on this article.