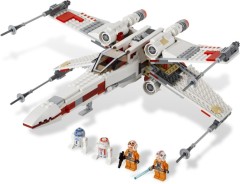 What I assume is in preparation for their imminent release, images have been uploaded to shop.LEGO.com for all of the first-wave of 2012 sets. The products aren't all listed at LEGO.com yet so you won't be able to see them on the site itself, so I've added them to Brickset, including all the additional images showing small details and minifigs.
So, use these links and get drooling: City | Cars | Star Wars | Friends | Ninjago.
For me, the Friends sets look most intruiging. There are some great colours and pieces in them, and it is said that the girls' hairpieces are compatible with minifigs. It's a shame my daughters are now too old to buy them for. I'll just have to come up with some other excuse!
Here's a few alternate images to whet your appetite:
Update: there's some interest in the comments about the new astromech head in the X-Wing set, so I've posted a close-up on flickr:
Commenting has ended on this article.