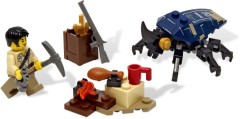 It appears that Toys R Us will be offering a 50% off sale on Kingdoms, Atlantis and the Pharaohs Quest themes for Boxing week starting Dec 27th.
The ad was a bit blurry but I would suspect there will be some sort of catch. There is a star in the ad which usually means some sets are excluded. It seems a bit too good to be true but that's for you to find out!
http://boxingday.redflagdeals.com/index.php/flyers/image_full/2483/
Commenting has ended on this article.