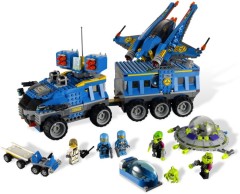 As regular readers will know, Brickset staff member DrDaveWatford runs his own blog Gimme LEGO.
He's just posted a review of the year and highlighted what he thinks are the best sets and themes, and also the worst. When you've read his opinion you can vote for one of ten nominated sets in the 'Gimme LEGO Reader's Choice Award'. If you have a favourite set of the year, go and see if it's listed and vote for it. The more votes cast, the more credible the award, so get voting!
(The Alien Conquest Earth Defence HQ, pictured, wins the 'Best Non-Licensed Set' award)
Commenting has ended on this article.