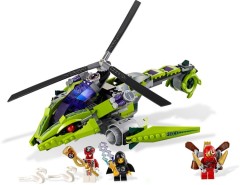 The 2012 sets have been added to shop.LEGO.com in the UK and probably elsewhere in Europe already, 3 days earlier than expected.
I've just finished building this RattleCopter and have to say, it's stunning! Get your order in now and I suspect you'll get them before the New Year.
Update: surprisingly, these are now all appearing in our product feed already. You can see everything added to the site on our What's New at shop.LEGO.com page.
(thanks R4-G9 for the tip-off)
Commenting has ended on this article.