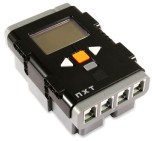 For a few days last week LEGOshop.com listed a black NXT brick for sale in North America. It's since been pulled from their listings and attempts to find it on their site results in a page not found.
It's possible that it's version 2 of the NXT brick: we know there's a new NXT 2.0 set, 8547, due out this year. I guess it was listed in the shop by mistake!
Commenting has ended on this article.