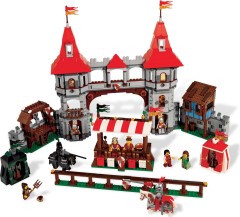 The LEGO Kingdoms Joust set, jointly announced back at the beginning of October at BrickCon (USA) and The Great Western Lego Show (UK), is now available from LEGO Shop Online (UK, £100 | USA, $120) and from Brand Retail Stores in the UK (we haven't heard about it being available in other bricks and mortar stores - let us know if you see it anywhere).
If you were at either of the two events mentioned above, you will have had the opportunity to take a good look at the set 'in the flesh'; I spent a day 'baby sitting' the one at GWLS, so I got to know it fairly well, and it's a very nice set in my opinion.
I've also got a part-built one on the sofa next to me as I type this ... it belongs to my wife, so I must resist the tempation to do any of the assembly!
Commenting has ended on this article.