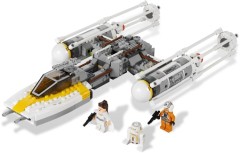 They are listed for immediate shipping in the UK and parts of Europe for immediate shipping: view them all here.
Update: they can also be pre-ordered for shipping at the end of the month in the USA and Canada.
US prices are
9492 TIE Fighter $54.99
9493 X-wing Starfighter $59.99
9494 Anakin's Jedi Interceptor $39.99
9495 Gold Leader's Y-wing Starfighter $49.99
9674 Naboo Starfighter & Naboo $9.99
9675 Sebulba's Podracer & Tatooine $9.99
9676 TIE Interceptor & Death Star $9.99

Commenting has ended on this article.