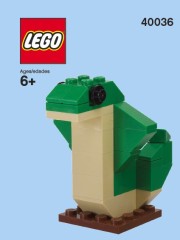 Here's a piece of news that'll delight a few but frustrate many: it seems that the Monthly Mini Model Build models that are only given out to under 14-year olds one day a month in LEGO brand stores are now pre-packed in clear, numbered, polybags.
cigpusher sent me this image of the one he obtained in the USA for today's build of a cobra, which you can currently see on the store events page at LEGO.com.
Prior to this development, collectors could justifiably overlook these sets because they were just a 'random' selection of parts in a zip-lock bag but now that they are pre-packaged and have a set number, they will become far more collectable. It's a shame then that the picture card isn't included.
What will atkinsar do, I wonder? :-)
(Update: polybag image replaced with one from the instructions.)
Commenting has ended on this article.