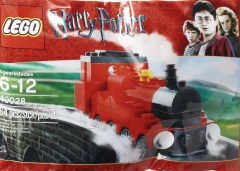 If, like me, you didn't want to buy another Diagon Alley just to get a mini Hogwarts Express, you'll be pleased to know that you can now buy it from shop.LEGO.com.
Although it was never sold for what is claimed is its full price of £7.99, it's now included in the sale for £6.39. That's still vastly overpriced for a 64 piece kit but if you're a polybag collector and you don't already have it, I suspect you'll buy it whatever the price...
(Thanks ljames28 for the news)
Commenting has ended on this article.