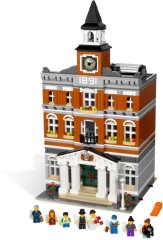 There have been rumours that the next modular building would be a town hall for, oh, at least a year. Now, pictures have emerged on a Romanian toy shop website. I can't actually find them there, but someone has posted them to Eurobricks so you can check them all out there.
It weighs in at 2766 pieces which is more than the other modular buildings. I have to say, I'm lovin' all that dark orange!
Update: bonaparte at Eurobricks kindly sent me the direct link to the set at the shop.
Update: The Brickset effect has struck again. The page at the Romanian shop, linked to above, has been removed, probably as a result of TLG reading this article or the Eurobricks one. I hope you saved the images!
Commenting has ended on this article.