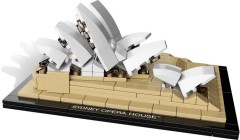 A Eurobricks member has uncovered this picture of the next Architecture set, Sydney Opera House, at Amazon.co.jp.
If you visit Amazon you can zoom in to see the detail. I haven't been able to extract the large version of the image so I've made this image of the model itself.
I have to say, I'm not overly impressed. It's a valiant attempt to model a complex structure at a small scale but I think it's just a bit too small and resembles little more than a random collection of curved wedges at odd angles.
Maybe I'm being too harsh. What do you think?
According to Brickshop.nl, it will cost €40 and be available in June.
Commenting has ended on this article.