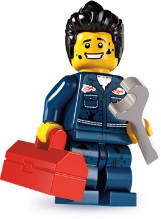 We've had a couple of reports from people saying S6 are now in their local stores:
evomackey: "Just saw series 6 minifigs at my TRU in Lexington, KY"
legorebel: "Series 6 is finally available in the US. At Smiths Marketplace in Utah, which is called Meyers elsewhere"
You can also order them from shop.LEGO.com now as well.
Happy hunting -- let us know where you find them!
Commenting has ended on this article.