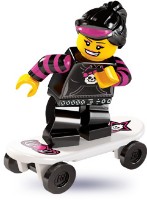 It can be a bit awkward going to the till with a whole box of figs under your arm. For one thing there's no guarantee the shop will sell them to you and the barcode on the box doesn't scan so you often have wait about while the cashier works out what to do.
So, here's a solution to the problem: Amazon.fr is selling complete boxes of 60 for €110, which is about £90, so it's not only convenient, but also £30 cheaper than in the UK!
Order them here: Series 6 minifigs.
Commenting has ended on this article.