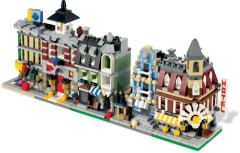 The Mini-modulars can now be ordered from shop.LEGO.com, but you have to be logged in to be able to do so. Mighty Wanderer emailed to say they were available but when I first looked it said 'coming soon 1st Feb.'
It seems that if you search for 10230 at LEGO.com and you are not logged in you end up at product landing page that says 'coming soon' but when you click on 'full details' it takes you back to the shop home page.
So, if you want to order, use these links [UK (£60) | USA ($80) | Canada ($100)] and if you end up at the home page, sign in and try again.
Commenting has ended on this article.