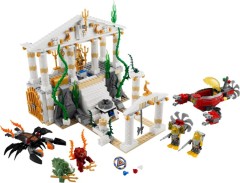 As I got dragged into Home Sense (with locations across Canada), I was pleasantly surprised to find a small selection of LEGO in their kids' section; some of which has recently gone on clearance.
I just picked up a City of Atlantis set for $44 on sale. Great pieces to go with the roman minifig from series 6.
Another set to note on "double clearance" was 7326 Rise of the Sphinx (which I believe is regularly 64.99) on sale for around 35.
I found a new appreciation for Home Sense that day!
Commenting has ended on this article.